The AHB LED High Bay is specifically designed to outperform its competitions with Efficacy from 120 lm/W & up to 150 lm/W. With various beam angles and optical distribution patterns available, this LED High Bay offers exceptional lighting in low to high ceiling applications and delivers the best luminous performance. The rugged construction of AHB LED High Bay is resistant to shock and vibrations, ensures long-life and safe operation. With IP65 rating, this durable LED High Bay is ideal for both indoor & outdoor as well as the commercial & industrial facilities
This strikingly beautiful luminaire combines brilliant aesthetics with space-filling light, all contained within a non-corrosive premium-quality aluminium & shatter-resistant polycarbonate lens.
With its unique upscale design, high-end performance, undeniable value and offers a maximum light output, exceptional illumination, and excellent energy savings. Easy installation saves time and labor cost, providing a virtually maintenance-free service.
Features
- cULus, LightingFacts, DLC, FCC
- Available Wattage: 100W, 120W, 150W, 200W, 240W, 300W
- Reimagines LED Lighting w/ Multiple Mounting Options
- 100~277VAC Universal Voltage / 0-10V Dimmable
- IP65 Rated: Protected Against Moisture & Environmental Contaminants
- 5-year Limited Warranty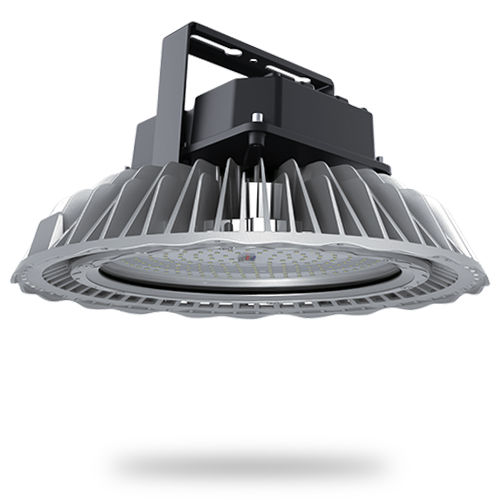 Power Consumption
100 W
120 W
150 W
200 W
240 W
300 W
Total Luminous Flux
13,000 lm
15,600 lm
19,500 lm
26,000 lm
32,000 lm
40,000 lm
Luminous Efficacy
Default: 125 lm/W ~ 130 lm/W / Optional: up to 150 lm/W
Dimension
15.07″ x 7.59″
15.07″ x 7.99″
15.07″ x 10.11″
Weight
14.77 lb
16.09 lb
19.84 lb
Input Voltage
100 ~ 277 VAC (Optional: 277 ~ 480 VAC)
Output Voltage
28.8 ~ 48 VDC
Color Temperature
Default: 5000 K / Optional: 4000 K
Color Rendering Index
≥73 Ra
Dimming
0 – 10 V Dimmable
Ingress Protection Code
IP65
Average Lifespan
50,000 hrs
Storage Temperature
-40 ~ 70 °C / -40 ~ 158 °F
Operating Temperature
-30 ~ 50 °C / -22 ~ 122 °F
Luminaire Material
Aluminum Alloy, Tempered Glass
Luminaire Color
Default: Black / Optional: Grey, White
Bezel Color
Default: Black / Optional: Blue, Grey, Red, White, Yellow
Mounting
Default: Chain Mount / Optional: Ceiling Mount, Stem Mount, Wall Mount
Certification
cULus, LightingFacts, DLC, FCC, CE, SAA
DLC Category
High-Bay Luminaires for Commercial and Industrial Buildings
Optional Lens
– Clear Tempered Glass
– Frosted Tempered Glass
Optional Lighting Control
– Microwave Occupancy Sensor (12 m / 39.37 ft.) (IP30)
– Daylight Sensor (IP30)
– Microwave Occupancy Sensor + Daylight Sensor (IP30)
Optional Mounting Accessories
– Non-Adjustable Surface Mount Bracket
– ±45 Degree Adjustable Surface Mount Bracket
– ±180 Degree Adjustable Surface Mount Bracket
Optional Emergency Battery
– Emergency Battery + Ballast (3 Hours / 10W / 1600 lm)
[fancygallery id="3″ album="7″]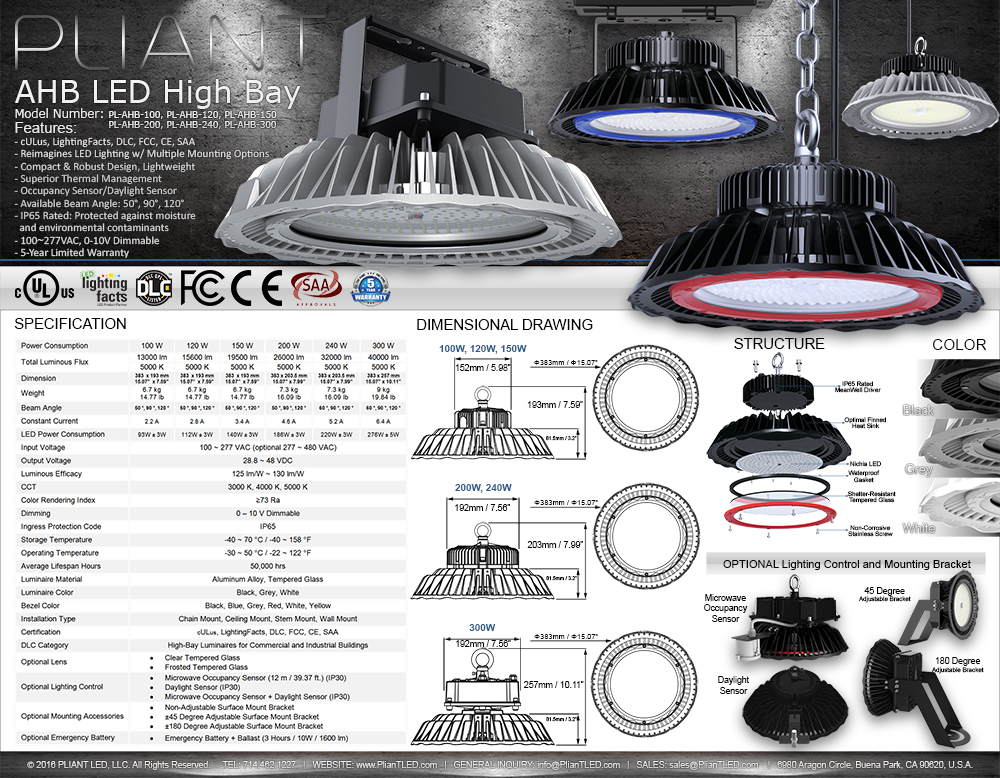 [iphorm id="2″ name="Contact us"]